Chiranjeevi-Hero of Sye Raa Narasimha Reddy Movie
Published On: September 30, 2019 | Posted By:
ivs
Chiranjeevi-Hero of Sye Raa Narasimha Reddy Movie
Mega tar Chiranjeevi movie 'Sye Raa Narasimha Reddy'  with Censor's "U/A" certificate is all set for a grand release on 2nd October 2019.
Businessoftollywood.com extends its best wishes and say all the best to chiranjeevi for the success of his movie No.151 titled 'Sye Raa Narasimha Reddy'
Few lines about Chiranjeevi:-
Konidala Sivasankara Vara Prasad was born on 22nd of August ,1955 at Mogalthur Village near Narasapur Town in West Godavari District of Andhra Pradesh.
Venkat Rao and Smt.Anjana Devi are the proud parents of this multifaceted personality. He is from a lower middle class family in a small village. His father was a constable in Excise Department.
After graduating in commerce he moved to Chennai and joined a film institute to develop his skills in acting in the year 1976.
Their Kula Daivam(family god) is Anjaneya Swamy(Lord Hanuman),His mother changed his name as Chiranjeevi to succeed in films.Coming out with a Diploma in acting from the film institute chiranjeevi got an offer in the film Punadi Rallu by producer T L Kranthi Kumar and directed by Raj kumar. The film Pranam Khareedu, directed by K vasu for the producer T L Kranthi Kumar with Jayasudha in the female lead role is the first released film(22.09.1978) of Chiranjeevi. Chiranjeevi starrer first film Punadi Rallu was released on 21st of June 1979.
Chiranjeevi acted and Bapu directed film Manavoori Pandavulu was released in the year 1978(09.11.1978)
Chiranjeevi acted with Kamal Hassan in the film Idi Katha Kaadu was released on 29th of June 1979.
AVM Productions film Punnami nagu(13.06.1980) has elevated his position as actor in the telugu film Industry.
Intlo Ramayya Veedhilo Krishnayya released in the year 1982 has stabilized his position in the Industry.
Box Office hit films Subhalekha and Abhilasha made him the MEGASTAR. There is no second thought in saying that he was the block buster hero of 80's and 90's.
In the initial stage of his film career he performed the roles of sadist with ease.
Chiranjeevi is a very good dancer.He has created his own style of stepping. He has become busy star as a dancer.
"Bangaru kodipetta vacchenandi"- for this song his attractive steps are still remembered by his fans(film…Gharana Mogudu)
"Abba nee teeyani debba" his dance/steps with Sridevi for this song is unforgettable.(film …Jagadeka Veerudu Athiloka Sundari)
He has his own style of expression and dialogue delivery. He is a left hander.
The dialogue of Chiranjeevi "Cheyyi choodu entha roughga vundo…roughadinchesthanu jagratha" in the film Gang Leader is proof of his acting talent.
In the film Mugguru Monagallu he played three roles (as 3 brothers.)
He acted as Lord Siva in the film Manjunatha.
Chiranjeevi married Surekha,daughter of comedian Allu Ramalingaiah in the year 1980.He has 2 daughters and one son.His son Ram Charan is a popular Tollywood hero.
He has two brothers in Nagendra Babu and Powerstar Pawan Kalyan.Both of them are acting in films.
His brother in law Allu Aravind is a leading Film Producer.
His brother Nagendra Babu's son Varun Tej is a popular actor in Tollywood.
Allu Aravind's sons Allu Arjun and Allu Sirish are also acting in films
Person coming from a small remote village in West Godavari district has become a person of importance in Tollywood as well as in the Country.
In the year 1998 Chiranjeevi has founded Chiranjeevi Charitable Trust with Eye and Blood Banks for collecting and donating Eyes and Blood for the needy.
In the year 2006 then President of India,Dr.Abdul Kalam Inaugurated the Chiranjeevi Charitable Foundation established at Jubilee Hills in Hyderabad. Dr.Kalam had all the praise for the services rendered by Chiranjeevi.
Chiranjeevi was honored with Padma Bhushan by govt. of India in the year 2006.
Chiranjeevi was conferred with Honorary Doctorate by Andhra University, Visakhapatnam in the year 2006.
He was Conferred with the prestigious Raghupathi Venkaiah Award in the year 2016 for his valuable contribution to Telugu cinema. 
The Awards received by Chiranjeevi:-
1. Film fare award(South) 1982 as best actor for the film SUBHALEKHA
2. Film fare award(South) 1985 as best actor for the film VIJETHA
3. Film fare award(south) 1988 as best actor for the film RUDRA VEENA
4. Film fare award(South)1993 as best actor for the film MUTHA MESTRY
5. Film fare award(south)1999 as best actor for the film SNEHAM KOSAM
6. Film fare award(south) 2002as best actor for the film INDRA
7. Film fare award(south) 2004 as best actor for the film SHANKER DADA MBBS
8. Film fare Legendary Honorary award 2006 for his contribution
to Telugu Cinema
9. Film fare Life Time Achievement award 2010 for his contribution to Indian Cinema
10. Nandi Award 1987 as a best actor for the movie SWAYAMKRUSHI
11. Nandi Award 1988 as best actor for the film RUDRA VEENA
12. Nandi Award 1992 as best actor for the film APADBANDHAVUDU
13. Nandi Award 2002 as best actor for the film INDRA
Listed below are some of the Chiranjeevi's best movies:-
1. Pranam Khareedu(1978)
2. Manavoori Pandavulu(1978)
3. Punadi Rallu(1979)
4. Iddi Katha Kaadu(1979)
5. Punnami Naagu(1980)
6. 47 Rojulu(1981)
7. Nyayam Kavali(1981)
8. Chattaniki Kallu Levu(1981)
9. Subhalekha(1982)
10. Patnam Vacchina Pathivrathalu(1982)
11. Manchu Pallaki(1983)
12. Abhilasha(1983)
13. Maga Maharaju(1983)
14. Khaidi(1983)
15. Sangarshana(1983)
16. Mahanagaramlo Mayagadu(1984)
17. Challenge(1984)
18. Intiguttu(1984)
19. Chattamtho Poratam(1985)
20. Vijetha(1985)
21. Kirathakudu(1986)
22. Maghadheerudu(1986)
23. Chantabbai(1986)
24. Rakshasudu(1986)
25. Donga Mogudu(1987)
26. Swayam Krushi(1987)
27. Jebudonga(1987)
28. Rudra Veena(1988)
29. Khaidi No.786(1988)
30. Trinethrudu(1988)
31. Atthaki Yamudu Ammayiki Mogudu(1989)
32. State Rowdy(1989)
33. Kodaveeti Donga(1990)
34. Jagadeka veerudu Athilokasundari(1990)
35. Raja Vikramarka(1990)
36. Kodama Simham(1990)
37. Gang Leader(1991)
38. Rowdy Alludu(1991)
39. Apathbandhavudu(1992)
40. Gharana Mogudu(1993)
41. Muthamestry(1993)
42. Mugguru Monagallu(1994)
43. Alluda Majaka(1995)
44. Riskshawvodu(1995)
45. Hitler(1997)
46. Master(1997)
47. Bavagaru Bagunnara(1998)
48. Sneham Kosam(1999)
49. Iddaru Mithrulu(1999)
50. Annayya(2000)
51. Manjunatha(2001)
52. Daddy(2001)
53. Indra(2002)
54. Tagore(2003)
55. Shankar dada MBBS(2004)
56. Stalin(2006)
57. Bruce Lee(2015-Cameo Role)
58. Khaidi No.150(2017)
59. Sye Raa Narasimha Reddy movie release date as announced is 02.10.2019.
Mega star Chiranjeevi after the tremendous success of his 150th movie 'Khaidi No.150' is coming up with his movie number 151 titled Sye Raa Narasimha Reddy directed by Surrender Reddy. This is the movie on the story of Uyyalawada Narasimha Reddy.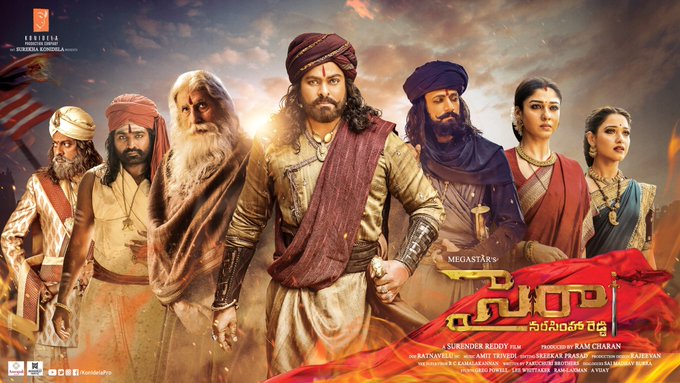 This movie is all set for a grand release on 2nd October 2019.
This is being made simultaneously in Telugu,Tamil,Hindi and Malayalam.
In the year 2008 Chiranjeevi established Praja Rajyam a Political party with himself as the President.
In the 2009 General Elections Chiranjeevi contested for the Assembly Seat from Tirupati and Palakollu. Became an MLA representing Tirupati Constituency.He merged his Praja Rajyam Party with The National Congress party in the Year 2012.He became a member of Rajya Sabha in the year 2012.He was  union minister of state(Independent Charge) in the Ministry of Tourism(2012 to 2014)
Chiranjeevi is a person who has earned name and fame on his own, coming from a lower middle class family.