Comedian Ali Birthday Today
Published On: October 10, 2021 | Posted By:
ivs
Comedian Ali Birthday Today
Tollywood's famous comedian Ali Birthday Today
Ali born in a poor Muslim family at Rajahmundry of East Godavari district of Andhra Pradesh on 10th of October 1968.
Today Ali is completing 53 years.
Businessoftollywood.com extends its Birthday Greetings to this top comedian of Telugu Cinema expecting much more comedy.
He developed mimicry art and passion for acting in films.
Ali went to Chennai at the early age of 12 years and was lucky to have been selected as a child artiste by director Bharathiraja in his film"Seetha koka chilaka" released in the year 1981.
Then on he acted in many films as a child artiste and established his image in the industry.
In the year 1986 he got an opportunity to act as a Comedian in the movie Rowdy Babai released in 1987.Slowly he has established himself in Tollywood as a comedian.
Director S V Krishna Reddy made him an established hero in his film Yamaleela released in the year 1994.It was a box office hit.
He has acted in around 1000 Telugu films as comedian/hero. At present Ali is one of the best leading comedians in Tollywood.
His brother Khayyam is also an actor.
To know more about Khayyam please go to interview folder of businessoftollywood.com.
Ali involved in the character of a police constable along with ace comedian Brahmanandam
In the film"Mayalodu".His face expression in that role was superb.
His expression of love and affection towards his mother in the film Yamaleela was excellent.
In the film "Rajendrudu-Gajendrudu" he excelled in the role of a loan seeker from Bank Manager Brahmanandam.The delivery of a word "CHATA" in Ali's style impressed the cine lovers.
As a Somberi(Lazy Fellow) in the film "Somberi" produced by Mr.Y S R Venkat Rao, he proved that he is an all round actor.
He performed well as a President of Beggars Association, teasing and scaring Brahmanandam in the film "Pokiri".
As a comedian and comedian hero Ali has stamped his own mark in the Telugu Cinema.
comedian Ali honored with Doctorate by Academy of Universal Global Peace at a special function at Coimbatore on 25th of May 2013
Ali has acted in all the movies of Power Star Pawan Kalyan.
List of his selected movies:-
01.Seethakoka Chilaka(1981) as child artiste
02.Swathi muthyam(1986) as child artiste
03.Punyasthree(1986) as child artiste
04.Rajendrudu-Gajendrudu(1993)
05.Mayalodu(1993)
06.Ammayi Kapuram(1994)
07.Akkum Bukkum(1994)
08.Avaragadu(1994)
09..Yamaleela(1994)
10.Pittala Dora(1994)
11.Ghatothgajudu(1994)
12.Hello Brother(1994)
13.Tholiprema(1999)
14.Nuvvuvasthavani(2001)
15.Devi Puthrudu
16.Khushi(2001)
17.Idiot(2002)
18.Chennakesavareddy(2002)
19.Aadi(2002)
20.Amma Nanna O Tamil Ammayi(2003)
21.Gudumba Shankar(2004)
22.Ammayi Bagundi(2004)
23.Anand(2004)
24.Samba(2004)
25.Yevadigola Vadidi(2005)
26.Pokiri(2006)
27.Annavaram(2006)
28.Yogi(2007)
29.Yamadonga(2007)
30.Chirutha(2007)
31.Seemasastry(2007)
32.Jalsa(2008)
33.Bujjigadu(2008)
34.Somberi(2008)
35.Dongalabandi(2008)
36.Kick(2009)
37.Magadheera(2009)
38.Don Srinu(2010)
39.Mirapakai(2011)
40.Teenmaar(2011)
41.Gabbar Singh(2012)
42.Cameraman Ganga Tho Rambabu(2012)
43.Sahasam(2013)
44.Attharintiki Daredi(2013)
45.Gunde Jari Gallanthayyinde(2013)
46.Ali Baba Okkade Donga(2014)
47.S/o.Sathya Murthy(2015)
48. Srimanthudu(2015)
49. Temper(2015)
50. Sardar Gabbar Singh(2016)
51. Oopiri(2016)
52. Thikka(2016)
53. ISM(2016)
54. Khaidi No.150(2017)
55.Winner(2017)
56. Katamarayudu(2017)
57. Rouge(2017)
58. Radha(2017)
59.Nela Ticket(2018)
60.Raa Raa(2018)
61. Pandu Gadi Photo Studio(2019)
62. Rajugar Gadhi 2(2019)
63.Chanakya(2019)
64. Krack(2021)
65. Father Chitti Uma Karthik(2021)
Upcoming movies: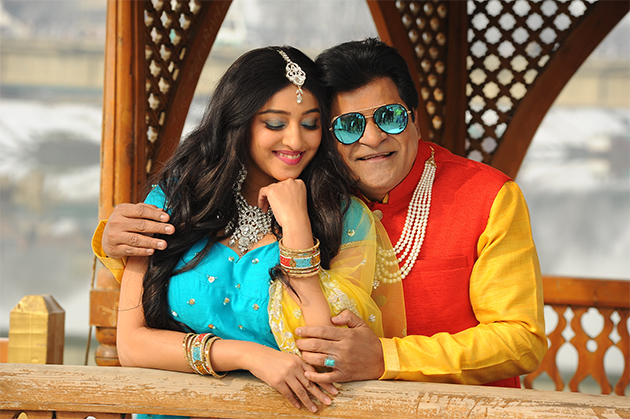 Andaru Bagundali Andulo Nenundali
Maa Ganga Nadhi
Liger
Son Of India