Kapatadhari Movie Censored
Published On: November 25, 2020 | Posted By:
ivs
Kapatadhari Movie Censored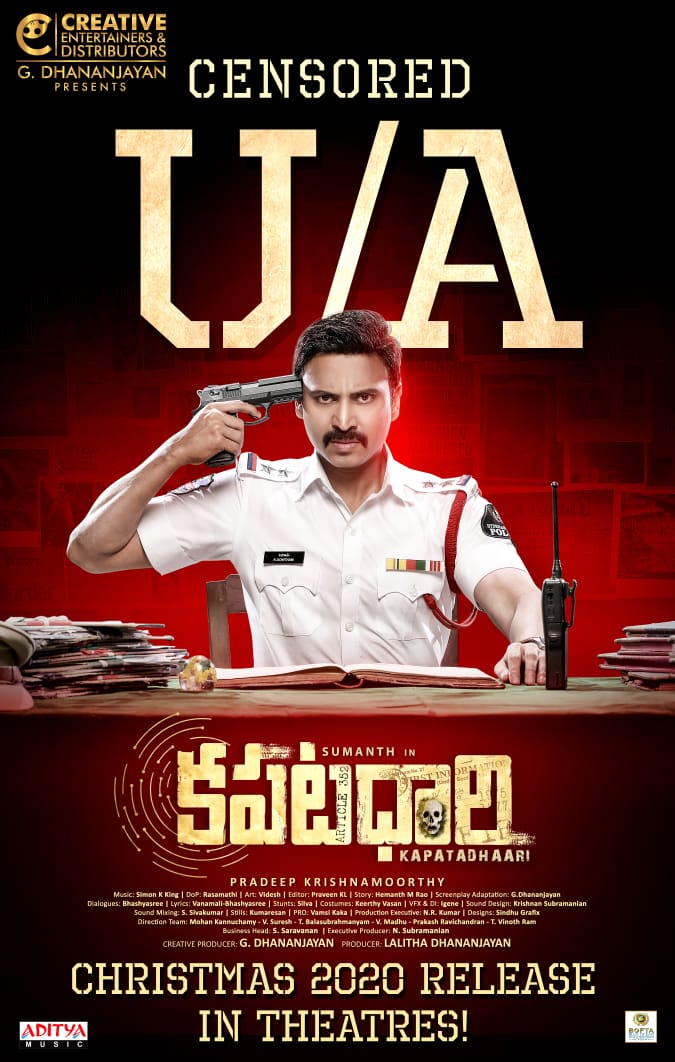 Kapatadhari movie has been cleared by Censor Board with "U/A" certificate.
The producer is planning for its release in theaters in December 2020.The date of its release to be decided and to be announced.
Sumanth, one of the talented Telugu heroes, is coming up with the movie titled 'Kapatadhari'  under the direction of Pradeep Krishnamoorthy. 
The film is a remake of super hit Kannada film 'Kavaludaari' which went on to become a big success. The film is an emotional thriller, exploring a new theme, which is being remade in both Tamil and Telugu languages by Producer Dr.G. Dhananjayan on Creative Entertainers and Distributors Banner.
The Telugu version ls  starring  Sumanth, Nasser, Nandita, Pooja Kumar, Jayaprakash, Sampath in key roles.
Sumanth, Nandita, Nasser, Pooja Kumar, Vennela Kishore, Jayaprakash, Sampath and many others.
Story: Hemanth M. Rao.  Screenplay Adaptation: Dr.G. Dhananjayan. Dialogues: Bhashyasree.  Rasamathi has handled the cinematography. Editing: Praveen KL. Art Direction: Videsh. Music: Simon K. King.  Action Choreography: 'Stunt' Silva.  Direction: Pradeep Krishnamoorthy.  Dr. G. Dhananjayan is the producer on  Creative Entertainers and Distributors Banner.