Tamil Neeya is Nagakanya in Telugu
Published On: February 9, 2019 | Posted By:
ivs
Tamil Neeya is Nagakanya in Telugu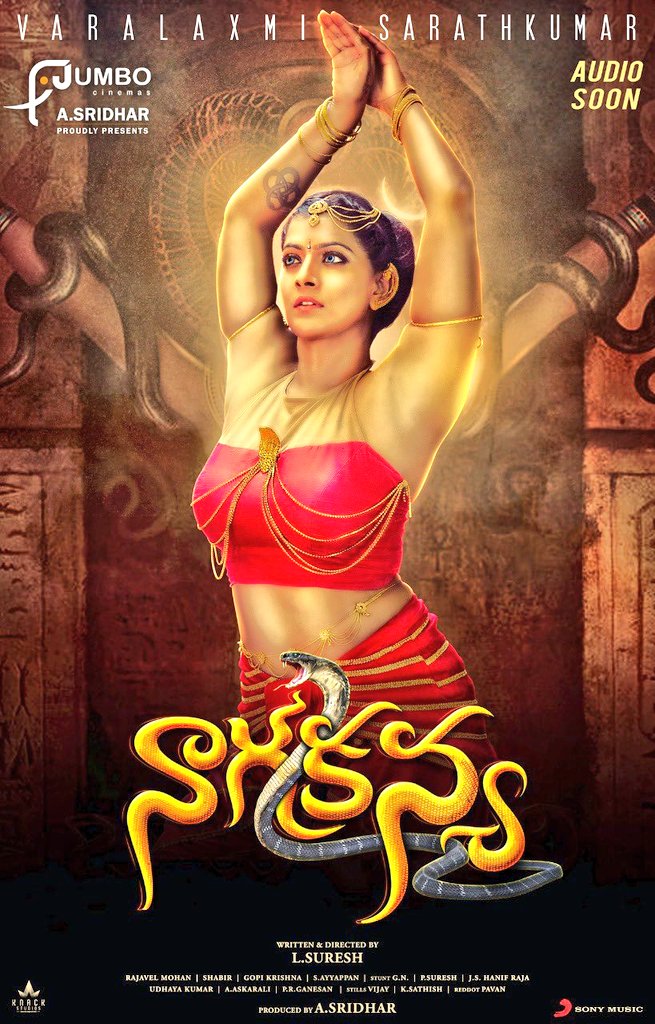 Varalakshmi Sarathkumar in a glamourous role in NagaKanya.
Makers of "NagaKanya" just unveiled the first look of the film.
Naga Kanya is a Telugu dubbed version of Tamil movie 'Neeya'. Varalakshmi Sarathkumar who is very well known for female antagonist roles in the Tamil Film Industry is now essaying a glamorous role in the film.
Along with Varalakshmi Sarathkumar, this film also features Catherine Theresa and Lakshmi Rai. Journey movie fame Jai is also playing a crucial role.
Varalakshmi's recent films Sarkar and Maari-2 registered as super hits at the Tamil box office and Telugu dubbed versions of these films were relatively good.
Both Telugu and Tamil Versions will have simultaneous releases, may be in March 2019.
Musical score is by Shabir. Cinematography is by Rajavel Mohan. Editing is by Gopi Krishna. Story,screenplay and direction are by L.Suresh. A.Sridhar is the producer on Jumbo Cinemas productions Banner.
The makers are also planning to unveil the first looks of other prominent characters in the film.