Director K.Raghavendra Rao Birthday Today
Published On: May 23, 2021 | Posted By:
ivs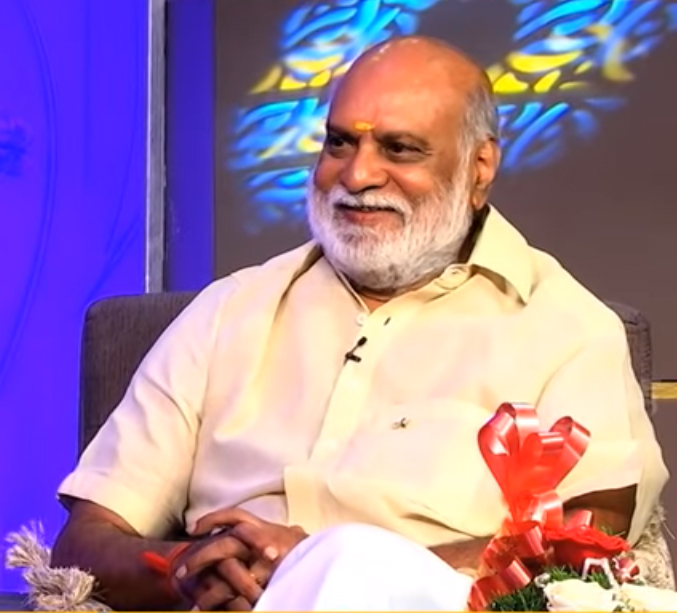 Director K.Raghavendra Rao Birthday Today
The most popular director, K.Raghavendra Rao born on 23rd May in the year 1942.
Today is the birthday of Raghavendra Rao who will be completing 79 years.
On this happy occasion businessoftollywood.com extends its Birthday Greetings to this great director of Tollywood wishing to see few more Blockbuster Movies under his direction.
He is the son of Sri K.S.Prakash Rao, a popular director in the early Telugu Cinema.
He is the most popular director in  Tollywood.He is called as 'Darsakendra'.He was introduced to the Telugu films through the film 'Babu' in which Sobhan Babu was the hero.
He brought many changes in directing a film in the Telugu Film industry. He introduced many heroines to the industry. Some of them are Sri Devi, Vijaya Shanti, Ramya Krishna, Radha, Rambha, Ravali. Even he introduced the latest heroines like Taapsi.
He is known for his direction. He did many heroine oriented movies such as Jyothi, Amma Katha, Kalpana. .He even did the historical movie "Annamayya" and it was a block buster. One cannot forget this film because it is the best historical movie in this Modern Era. He even directed some other devotional movies (Pandu Rangadu, Sri Ramadasu, Manjunatha, 'Shiridi Sai Baba').
Another monument is 'Pelli Sandadi', which was a great musical hit and this movie changed the Stereo typic directions and even stereo typic movies. He directed with almost all the heros He even directed Hindi Movies like Himmathwala,Tofa. He directed nearly 106 movies.
Raghavendra Rao son Prakash is also a director
Awards:
He got the 'Best Choreographer Nandi Award 'for the film 'Pelli Sandadi' in the year 1996.
He got the'B.N.Reddy National Award' for his contribution to the 'Telugu Film Industry' in the year 2009.
These are some of the top movies Directed by K.Raghavendra Rao
1. Babu (Sobhan Babu and Vanisri) 1975.
2. Jyothi (Murali Mohan and Jaya Sudha) 1976.
3. Amar Deepam (Krishnam Raju, Murali Mohan and Jaya Sudha) 1977.
4. Kalpana (Jaya Chitra) 1977.
5. Adavi Ramudu (Dr NTr, Jaya Sudha and Jaya Pradha) 1977.
6. Padaharella Vayasu (Sri Devi and Chandra Mohan) 1978.
7. Vetagadu (DrNTR and Sri Devi) 1979.
8. Mosagadu (Sobhan Babu, Chiranjeevi and Sri Devi) 1980.
9. Ooriki Monagadu(Krishna and Jaya Prada)1981.
10. Devatha (Sobhan Babu,Sri Devi and Jaya Pradha)1982.
11. Justice Choudary (DrNTR, Jayanti and Sharada) 1982.
12. Trisulam (Krishnam Raju, Sri Devi, Jaya Sudha and Radhika) 1982.
13. Bobbili Brammanna (Krishnam Raju, Sharada and Jaya Sudha) 1984.
14. Adavi Donga (Chiranjeevi and Radha) 1985.
15. Agni Parvatam (Krishna, Jaggayya, Sharada and Vijaya shanty) 1985.
16. Kaliyuga Pandavulu (Venkatesh and Khusboo) 1986.
17. Ravana Brahma (Krishnam Raju and Radha) 1986.
18. Kondaveeti Raja (chiranjeevi, Mohan Babu, Radha and Vijaya Shanti) 1986.
19. Janaki Ramudu (Nagarjuna, Vijaya Shanti and Jeevita) 1988.
20. Donga Ramudu (Bala Krishna and Radha) 1988.
21. Akari Poratam (Nagarjuna, Sri Devi and Suhashini) 1988.
22. Rudranetra (chiranjeevi and Radha) 1989.
23. Ontari Poratam (Venkatesh and Farah) 1989.
24. Alludu Garu (Mohan Babu, Ramya Krishna and Sobhana) 1990.
25. Jagadeka Veerudu Atiloka Sundari (Chiranjeevi and Sri Devi) 1990.
26. Coolie No1 (Venkatesh and Tabu) 1991.
27. Rowdy alludu (Chiranjeevi, Divya Bharati and Sobhana) 1991.
28. Sundara Kanda (Venkatesh and Meena) 1992.
29. Allari Mogudu (Mohan Babu, Ramya Krishna and Meena) 1992.
30. Gharana Mogudu (Chiranjeevi, Nagma and Vani Vishwanath) 1992.
31. Ashwametham (Bala Krishna, Sobhan Babu, Meena, Geeta and Nagma) 1992.
32. Allari Priyudu (Raja Shekar, Ramya Krishna and Madhu Bala) 1993.
33. Major Chandrakanth (DrNTR, Sharada, Mohan Babu and Nagma) 1993.
34. Allari Premikudu (Jagapati Babu, Rambha and Soundarya) 1994.
35. Muddula Priyudu (Venkatesh, Ramya Krishna and Rambha) 1994.
36. Mugguru Mongallu (Chiranjeevi, Ramya Krishna, Nagma and Roja) 1994.
37. Gharana Bullodu (Nagarjuna, Ramya Krishna and Amani) 1995.
38. Raja Shimham (Raja Shekar, Ramya Krishna and Soundarya) 1995.
39. Sahasa veerudu Sagara Kanya (Venkatesh, Shilpa Shetty and Mala Shree) 1996.
40. Bombay Priyudu (J.D.Chakravarthy and Rambha) 1996.
41. Pelli Sandadi (Srikanth, Deepti Bhatnagar and Ravali) 1996.
42. Annamayya (Nagarjuna, Ramya Krishna, Kasturi, Mohan Babu and Roja) 1997.
43. Iddaru Mittrulu (Chiranjeevi, Sakshi Sivanad and Ramya Krishna) 1999.
44. Raja Kumarudu (Mahesh Babu and Preeti Zinta) 1999.
45. Sri Manjunatha (Arjun, Chiranjeevi, Meena and Soundarya) 2001.
46. Gangotri (Allu Arjun and Aditi Agrawal) 2003.
47. Morning Raaga (K.Prakash, Shabana Azmi andPerizaad Zorabian) 2004.
48. Sri Ramadasu (ANR, Nagarjuna and Sneha) 2006.
49. Pandu Rangadu (Bala Krishna, Tabu and Sneha) 2008.
50. Shridi Sai baba (Nagarjuna) 2012
51. Om Namo Venkatesaya(Nagarjuna)2017
Intinta Annamayya (not released)
He worked with S S Rajamouli for the movie Baahubali.