Father Chitti Uma Karthik Movie Song released
Published On: February 1, 2021 | Posted By:
ivs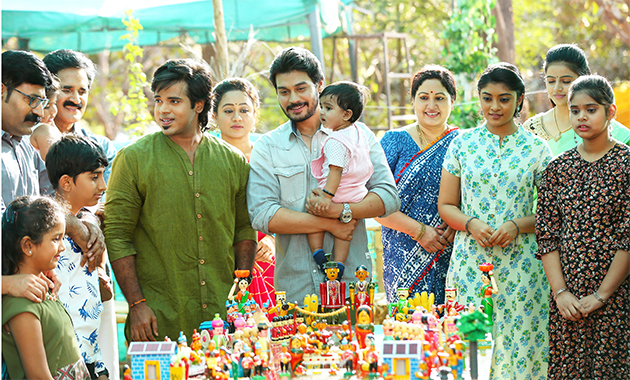 Father Chitti Uma Karthik Movie Song released
FCUK(Father Chitti Uma Karthik) Movie Hey Hudiya Song released by media for media

In a never before kind of event, media personnel released a song for the media personnel. 'Hey Hudiya' song from FCUK Movie was released by the media personnel who had come to cover the event. This is as part of the initiative by Sri Ranjith Movies to release the song by real heroes of the pandemic and the previous songs were released by health, municipal and police personnel.
Speaking on behalf of Sri Ranjith Movies producer K L Damodar Prasad said that this initiative was taken as a small token of gratitude to the invaluable services of the covid frontline workers who risked their lives to save others lives.
Jagapati Babu  said that media was among the sections that didn't get recognition though they played a pivotal role in keeping the information flowing when everyone was scared to step up. The media stalwarts who participated in the event thoroughly enjoyed singing the song 'Hey Hudiya' the music for which was composed by Bheems Ceciroleo. Hero Ram Karthik thanked the media for their role in fighting the pandemic and for releasing the song of FCUK Movie. Director Vidyasagar Raju said that he was confident that FCUK which is a Romantic Comedy will be releasing in the theatres on 12th February 2021.
Jagapatibabu, Karthik, Ammu Abhirami, Ali, Daggubati Raja, Kalyani Natarajan, Brahmaji, Krishna Bhagavaan, Rajitha, Jabardast Ram Prasad, Naveen, Venky, Raghava, Bharat etc.
Dialogues: Aditya,Karunakar,
Cinematography: Shiva.G
Music Director: Bheems Ceciroleo
Songs: Aditya, Karunakar, Bheems
Editing: Kishore Maddali
Art Director: J.k. Murthy
Story-Screenplay-Choreography-Direction: Vidyasagar Raju
Producer: KL Damodar Prasad