Published On: November 11, 2021 | Posted By:
ivs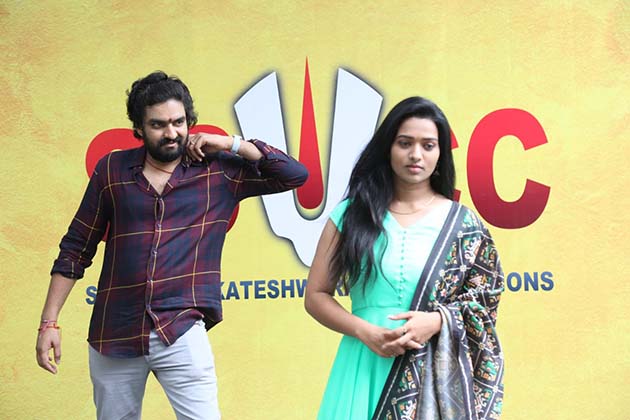 Sound Movie Launched
Sri Sai Venkateswara Cine Creations' Production No.1, Sound (Multibrand), formally launched on a grand note in Ramanaidu Studios

Actors Arjun Varaahi, Rekha Nirosha are coming together for Sound (Multibrand), a film directed by KV Chowdary and produced by K Ravindra under Sri Sai Venkateswara Cine Creations. K Sai Chandrika is the presenter of the project. The film was formally launched at Ramanaidu Studios, Hyderabad in the presence of a host of celbrities from the tinsel town on Thursday. Renowned director Bhimaneni Srinivas Rao gave the first clap for a sequence featuring the lead actors, while star producer Atchi Reddy handoverd by the script. Vasu Varma, co-producer for Most Eligible Bachelor switched on the camera..

In an interaction with the media held after the film's formal launch..

Director KV Chowdary said, "We are grateful to all our guests who took time out of their busy schedule to attend our film launch. Sound is an out-and-out entertainer tailormade for family audiences. Sound is a word we regularly use in our daily lives and thought it would make for a catchy title. The film will have a heavy dose of fun and humour. The principal shoot will commence on November 15 across various locations in Vizag and Hyderabad. We plan to wrap up the film in two schedules."

Producer K Ravindra added, "I am thankful to director Bhimaneni Srinivas Rao, producer Atchi Reddy, director-producer Vasu Varma and Mallikarjuna for gracing our launch event. I immediately liked the script that KV Chowdary had narrated to me and decided to produce it. The film is a full-on entertainer and will have enough emotional depth too. We're confident that it'll be liked by family audiences. I hope everyone extends their goodwill for our banner in the days to come."

Actor Arjun Varaahi shared, "Sound is a film that's sure to strike a chord with audiences. The script has great scope for comedy, mass elements and entertainment and has shaped up well. We'll certainly live up to impact created by the title. I thank my director and producer for having the confidence in me to play the lead role."

Actress Rekha Nirosha stated, "We're set to begin filming soon. We'll definitely work towards bringing a smile to audiences when they watch Sound. I am happy for the trust that the director and producer have placed in my abilities."

Cast: Arjun Varaahi, Rekha Nirosha, Jeeva, Kalyan Teja

Crew:

Presenter: K Sai Chandrika
Banner: Sri Sai Venkateswara Cine Creations (SSVCC)
Producer: K Ravindra
Written-Director: KV Chowdary
Co-Director :Pandu
Cinematographer: Pawan Gunduku
Music: Kapil Kumar
Editing: G Pradeep Doddi
Stunts: Real Satish
Art: Vaddi Sudhakar
Lyrics: Vanamaali