Varudu Kavalenu Movie Sangeeth Event
Published On: October 25, 2021 | Posted By:
ivs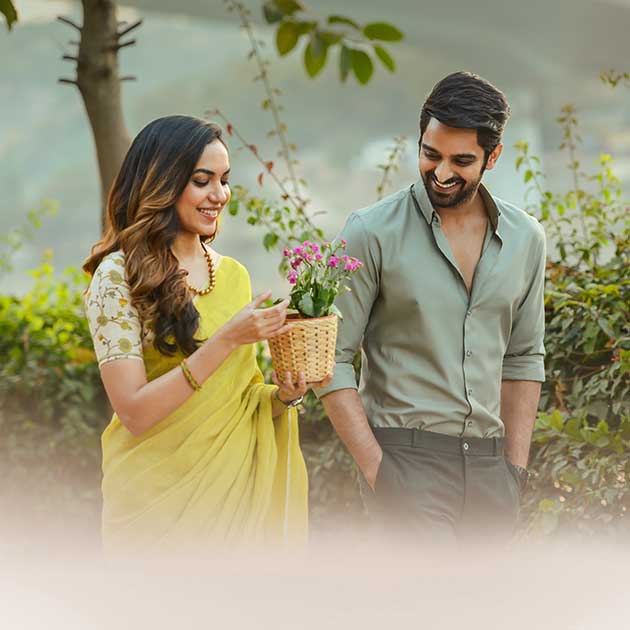 Varudu Kavalenu Movie Sangeeth Event

Starring Naga Shaurya and Ritu Varma in the lead roles, 'Varudu Kavalenu' marks the directorial debut of Lakshmi Sowjanya. The film, presented by PDV Prasad and produced by Naga Vamsi Suryadevara under prestigious production house Sithara Entertainments, is all set for release on October 29th in theatres.
The producers have been surprising with unique round of promotions with this film. After holding the trailer launch event recently, the makers have held the Sangeeth event of 'Varudu Kavalenu' on Saturday night at a star hotel in Hyderabad.
Pooja Hegde has graced the event as the chief guest and wished all the success to the 'Varudu Kavalenu' team. Whole cast and crew have attended the event. Haarika & Hassine Creations founder and ace producer Radha Krishna Suryadevara (Chinna Babu), lead actors Naga Shaurya, Ritu Varma, producer Naga Vamsi, music composer Vishal Chandrasekhar, dialogue writer Ganesh Ravuri, lyric writer Rambabu Gosala and others have attended the do.

Speaking at the Sangeeth event of 'Varudu Kavalenu', Pooja Hegde said, "Today I'll keep it short. First of all, thanks for having me here. It is rare to have a heroine as a chief guest for a filmy function. I'm really elated with this. I'd like to thank producers Chinna Babu Garu and Naga Vamsi for this. The credit goes to them. Haarika & Hassine Creations is like my home banner. Chinna Babu Garu treats me like his family member. The women representation in direction department is relatively less in the industry. 'Varudu Kavalenu' is directed by newcomer Lakshmi Sowjanya. It is a beautiful love story. I wish a great success to the film and hope it brings good profits to producers. I hope director Lakshmi Sowjanya will have a bright future. Everyone have suffered during Covid pandemic. People want some relief and entertainment. So watch 'Varudu Kavalenu' only in theatres. Forget all your tensions and troubles by watching the film. With the same energy and josh, I'll meet the film's team at the success bash."


Hero Naga Shaurya said, "I had heard the story of 'Varudu Kavalenu' for the first in 2018. As soon as I heard it, I decided to do the film. We've started the film's shoot in 2019. We witnessed two waves of Covid. Certainly, it was a tough journey and finally we're releasing our film in theatres on October 29th. Producers might be flooded with the OTT offers and continuous calls from the OTT platforms. I really appreciate and thank producers for releasing the film in theatres  first. We proudly boast that 'Varudu Kavalenu' came out nicely. It is not over-confidence. But it is our belief and confidence on our film. Sowjanya Akka who earlier worked as an assistant director has written a beautiful love story and that's 'Varudu Kavalenu'. She is turning her dream into real. She worked hard for the film's output and she succeeded in it. With this film, she will bag success. We got our first success with Vishal Chandrasekhar's music. Song have become chartbusters. Ritu Varma is most apt for the role of Bhumi. Looking forward to working with her again. Producers Chinna Babu Garu and Naga Vamsi are passionate makers. They love cinema and they won't compromise on the budgets to ensure that the story is justified. The journey with them was beautiful. I urge audiences to watch the film only in theatres. Please come to theatres without any fear as all Covid protocols are being followed at theatres."



Talking at the event, heroine Ritu Varma shared, "With Love and affection as the central points, the film is a family entertainer and appeals to all sections of audiences. I'm really lucky to get this story and Bhumi's character. Director Lakshmi Sowjanya is being launched with a good film.There are good dance numbers in the film, thanks to music composer Vishal Chandrasekhar. With co-star Naga Shaurya's support, it has become quite easy for me. It is rare to invite a heroine as the chief guest. I'm very glad that Pooja Hegde has graced for our event to support us. I'm sure 'Varudu Kavalenu' is going to be a big hit for all of us."


Producer Naga Vamsi said, "Our production always gives importance to films with strong story line and family elements. 'Varudu Kavalenu' will equally appeal to families and youth. Thanks to Pooja Hegde for attending and wishing us success. I'd like to extend my thanks to all media and fans for supporting our film."

Music director Vishal Chandrasekhar said, "All the songs have suited well to the story. Background score is complimenting the film. I'm really happy to be part of such a beautiful film."

The film's important cast includes Nadhiya, Murali Sharma, Vennela Kishore, Praveen, Ananth, Kiriti Damaraju, 'Rangasthalam' Mahesh, Arjun Kalyan, Vaishnavi Chaitanya, Sidhiksha and others.

For this movie
Dialogues: Ganesh Kumar Ravuri,
Cinematographer: Vamsi Patchipulusu,
Music : Vishal Chandrashekhar
Editor: Navin Nooli
Art: A.S Prakash
Presents by: P.D.V Prasad
Produced by: Surya Devara NagaVamsi
Story- Direction:Lakshmi Sowjanya