Friendship Movie Trailer Launched
Published On: September 7, 2021 | Posted By:
ivs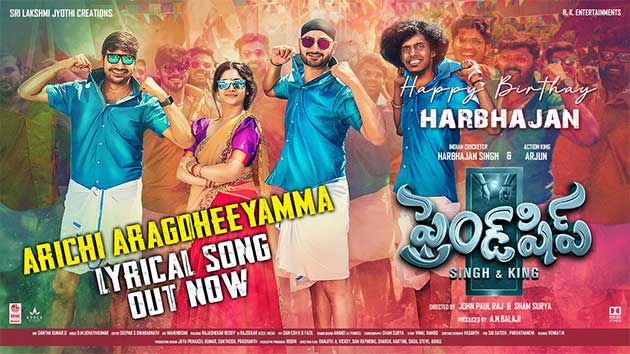 Friendship Movie Trailer Launched
Harbhajan Singh, Action King Arjun's `Friendship` Trailer Out, Theatrical Release in September
Former Indian cricketer Harbhajan Singh and action king Arjun have played the lead roles in the forthcoming venture 'Friendship'. Directed by John Paul Raj and Sham Surya, the film will have grand release simultaneously in Telugu, Tamil, Hindi, Kannada and Malayalam languages. AN Balaji of Sri Lakshmi Jyothi Creations will be releasing the film in Telugu. Meanwhile, the film's trailer is out today.
On the occasion, AN Balaji said, "After the second wave, Telugu audiences have been showing their love for cinema and are lending great support to films. The best example for this is our film 'Orey Bammardi'. Recently released in theaters, the film has received a good response from the audiences. Everyone says it is a superhit movie. We are now planning to release `Friendship` in September. The film, which was made with a huge budget of around Rs. 25 crores will be very unique in terms of story and narration.
We bought the remake rights of Malayalam superhit movie 'Queen' which was made with new actors. Harbhajan and Arjun competed with each other and came up with wonderful performances. There are five fights and four songs. Directors John Paul Raj and Sham Surya presented what happened between college students and politicians engagingly including interesting and commercial elements. The film will be released in five languages (Telugu, Tamil, Hindi, Kannada, Malayalam). It's all set for censor certification. We are planning to release the movie in September. We will also announce the release date soon."
"Thriller,Suspense,Comedy,Revenge, Action,Sentiment,Emotion the all in One Super Entertaining #FriendshipTrailer is Here, " tweeted Harbhajan Singh.