Published On: May 7, 2021 | Posted By:
ivs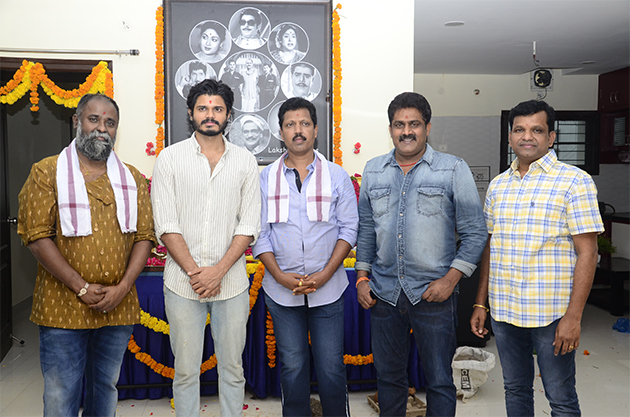 Highway Movie Launched
KV Guhan who has worked as the Cinematographer for many blockbuster films turned as the director with Successful film "118". KV Guhan's upcoming film with Anand Devarakonda as main lead, Sri Aishwarya Lakshmi Movies Production No 2 " Highway" ( A nerve Raking Ride Story).
"Highway" is the road journey backdrop film with Psycho Crime Thriller. Talari Venkat is producing This film.
The film was launched with Pooja at Producer Office on 8th May 2021. Tungaturthi MLA Gadhari Kishore Kumar is given Clap and Director M Veerabhadram Switch on the camera. Director KV Guhan shot the First scene on Hero Anand Devarakonda. Simon K King is composing the music. Regular shooting of this film commences from June first week.

On this occasion "Chuttalabbai" Producer Venkat Talari said: After Superhit film "Chuttalabbai", this is my next film. The story of KV Guhan is thrilling. KV Guhan is  directing and Anand Devarakonda in the main lead role, "Highway" film is being made with the high technical Values. A Psycho Crime Thriller with the Highway Backdrop. We are very confident about the success of this film. Many well-noted artists are being part of this film. We will announce their names shortly.

Director KV Guhan Said: I am very glad to direct the film "Highway" with Anand Devarakonda as main lead launched today with pooja. Pre – Production work is in the final stage. Artists and Technician selection is going on. The regular shooting of this film commences from June first week. We will surprise all very soon by announcing some famous artists.

Hero Anand Devarakonda Said: I am working with an experienced director for the first time. KV Guhan sir is a Superb Cinematographer. I am very glad to collaborate with him as well as with Sri Aishwarya Lakshmi Movies. I hope I will learn new things on this journey. I hope this will be a great film. Thanks to MLA Gaadari Kishore Kumar for Gracing the event and also thanks to my director KV Guhan and Producers Talari Venkat and Ramesh.

Tunkaturti MLA Gadari Kishore Kumar Said: This film producer Venkat Talari is a close friend to me. He is a tasteful producer. Director KV. Guhan is very Passionate about films. Guhan Garu is a much experienced cinematographer, With Anand Devarakonda as main lead Sri Aishwarya Lakshmi Movies banner Producing this film. wishing everyone a great success. Also wishing my friend Venkat Talari to produce great films in his banner. Not only as a well-wisher, but also as an audience I am eagerly waiting for this film.

Director Veerabhadram Said: Sri Aishwarya Lakshmi Movies Producer Venkat Talari is my Friend. His first film in my Direction " Chuttalabbai" becomes a great success. His second film "Highway" in KV Guhan's Direction. Wishing all great success.

Anand Devarakonda as the main lead and well-noted Artists are playing the crucial roles.
Banner: Sri Aishwarya Lakshmi Movies
Music: Simon K King
Producer : Venkat Talari
Story, Screenplay, Cinematography, Direction: KV Guhan